What is an MREC?
uitklapper, klik om te openen
Research that falls under the Medical Research Involving Human Subjects Act (WMO) must be reviewed by an independent committee of experts. The research may not begin without a positive decision by this committee. (See also: Is review required?)
There are two types of reviewing committees:
1. The Central Committee on Research Involving Human Subjects (CCMO)
2. Accredited Medical Research Ethics Committees (MRECs)
The accredited MRECs and the CCMO are independent administrative agencies (ZBOs). This means that they are governmental bodies. They have legal jurisdiction to make decisions that are binding to citizens (in this case, decisions on the basis of the WMO).A non-accredited MREC is not a ZBO and has no jurisdiction to make WMO decisions.
The law determines whether a research must be reviewed by the CCMO or an accredited MREC. This is laid down in the WMO and the Central Review Decree (Besluit Centrale Beoordeling, BCB). In practice the accredited MRECs review the majority of research protocols. (See also: Reviewing committee: accredited MREC or CCMO?)
Executive board
uitklapper, klik om te openen
The MREC NedMec is divided in three chambers: All-round (A), Medicinal Products (G) and Oncology (O).
The executive board of the MREC NedMec consists of:
Prof. dr. C.M. (Michel) Zwaan – general chairman
Dr. R.P. (Roderick) Venekamp – chairman Chamber All-round
Dr. B.F. (Bianca) Goemans – chairman Chamber Medicinal Products
Dr. J.P. (Jan Paul) de Boer – chairman Chamber Oncology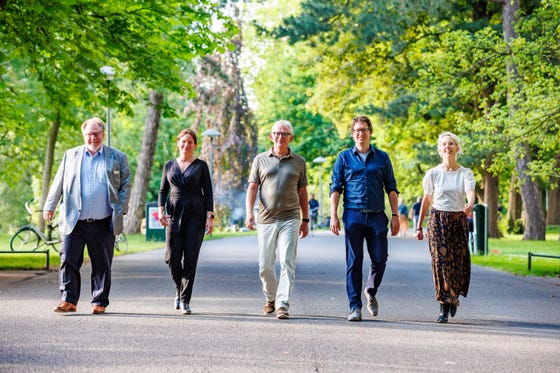 (L-R) Michel Zwaan, Bianca Goemans, Jan Paul de Boer, Roderick Venekamp and Anna Bakker
Regulations
uitklapper, klik om te openen
The MREC has drawn up its regulations and complaints procedure in accordance with the CCMO template.
Members of the MREC
uitklapper, klik om te openen
A list of members is often requested for dossier creation. You can find the most recent MREC list of members on the CCMO website.
Researchers can use this list of members and add it to the research file, together with the MREC regulations and the statement below:
"MREC members may only be involved in the MREC decision-making process if they are independent of the investigator of the study under review. Therefore, at the beginning of each MREC meeting, it is asked whether any of the attendees are involved in a research file to be reviewed. The MREC secretariat records who is present at the meeting and who is involved in which study. Any person leaving the meeting during the discussion of the study concerned is also recorded. All member involvement is also recorded in the MREC database. With this procedure the MREC acts in accordance with its Standard Operating Procedure and GCP 3.2.1."
Annual reports of the MREC
uitklapper, klik om te openen
Our secretariat
uitklapper, klik om te openen
The MREC NedMec secretariat consists of the following staff:
mr. A.C (Anna) Bakker, Manager Research Review Department / Manager Secretariat METC
M.J. (Marion) Berk-van der Linden, Administrative assistant
drs. V. (Vincent) Bontrop, Official Secretary MREC (chamber G)
drs. R.P. (Rutger) Chorus, Junior staff advisor, support MREC and Review Committee Biobanks
mr. A.M. (Annemiek) van den Dries, Senior Procedure coordinator MREC
P. (Pauline) Ebbinkhuijsen, Official Secretary MREC (chamber O)
drs. R.G. (Rashieda) Jahangier, Official Secretary MREC (chamber G)
dr. W.A. (Antoinette) Groenewegen, Official Secretary MREC and Review Committee Biobanks
dr. S. (Sigrid) Heinsbroek, Official Secretary MREC (chamber A)
drs. K. (Katina) Kardamanidis, Official Secretary MREC (chamber O)
drs. M.C. (Mandy) Koppes, Procedure coordinator MREC and Review Committee Biobanks
Y. (Yasmina) Laakar, Procedure coordinator MREC
drs. M.D. (Myriam) van de Loo-Waller, Official Secretary MREC
drs. A.H.M. (Anita) van den Oetelaar, Official Secretary Review Committee Biobanks
A.T. (Arina) Onnink, Secretary MREC (chamber O)
M. (Michael) de Ridder, Advisor Information and Archive
K.W. (Kim) Schultze, Secretary MREC (chamber O)
Please see Contact for contact details.
Participating institutions: UMC Utrecht, Prinses Máxima Center for pediatric oncology and Antoni van Leeuwenhoek
Thank you for your review!
Has this information helped you?